Porsche 911 Carrera
(Type 993) Service Manual:
1995, 1996, 1997, 1998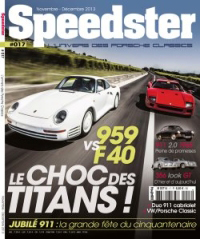 Speedster - L'Univers des Porsche Classics - Novembre/Décembre 2013
993 Carrera Workshop Manual (translated from the original French)
Bentley Publishers, the American publishing company, published in English this manual dedicated to the 911 Carreras from 1995 to 1998. These are also known as the 993 (2, 4, 2S and 4S). Better set aside your notions of the language of Shakespeare, since each section and each procedure is accompanied by detailed photos, illustrations or diagrams, totalling 1523 across 946 pages(!) So here we have it, an indispensable book for engaging in any project.
Manuel d'atelier 993 Carrera
Bentley Publishers, éditeur américain, publie en anglais ce manuel d'atelier consacré aux 911 Carrera des millésimes 1995 à 1998. Comprenez la 993 (2. 4. 2S et 4S). Mieux vaut avoir quelques notions dans la langue de Shakespeare, même si chaque étape de chaque tutoriel est accompagnée de photos détaillées, illustrations ou diagrammes, au nombre de 1523 sur 946 pages (!). Mais voilà, le genre d'ouvrage indispensable pour se lancer dans une quelconque intervention.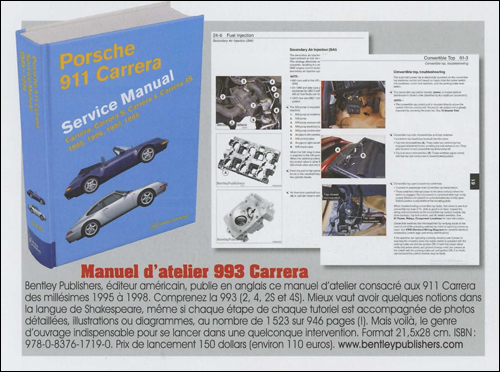 Review from and courtesy of Speedster, Novembre/Décembre 2013