Porsche 911 Carrera
(Type 993) Service Manual:
1995, 1996, 1997, 1998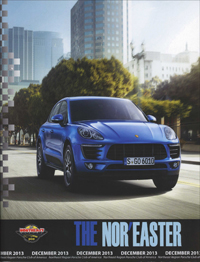 The Nor'Easter - December 2013
Holiday Considerations
As the holiday's approach, this seemed like a good time to point out a few new books that have been introduced on the market that your favorite Porsche Enthusiast may be interested in...
The second book released this fall was the The Porsche 911 Carrera (Type 993) Service Manual: 1995-1998 by Bentley Publications in Cambridge MA. It's a comprehensive source of service information and specifications for Porsche 911 (Type 993) Coupe, Cabriolet and Targa models from 1995 to 1998.
Models covered are: 1995-1998 911 Carrera, Carrera S, Carrera 4, Carrera 4S Engines covered: 1995: 3.6 liter (M64.07 and M64.08). 1996-1998: 3.6 liter (OBD II M64.23 and M64.24) Transmissions covered: G50 (6-speed manual. RWD) G64 (6-speed manual, AWD) A50 (4-speed automatic).
The manual has been designed with simplicity and clarity, practical explanations, step-by-step procedures and useful specifications.
The pictures are clear, with instructions that anyone could follow along with. Its a full -color repair manual (black and white electrical section), with in-depth maintenance instructions for everything from changing the engine oil (and both oil filters) and Tiptronic transmission fluid to replacing the cabin microfilter. This manual tells you how and when to do it.
Type 993 enthusiast guide with year-to-year model specifics, and a comprehensive listing of Porsche option codes. Step-by-step engine / transmission assembly removal and installation. Illustrated engine teardown and rebuild, with camshaft and timing chain replacement, detailing wear limits and nominal values. Fuel injection and ignition system service and component testing of different Bosch DME engine management systems, including the secondary air injection (SAl) system. Clutch, flywheel and rear main seal service. Front and rear drivetrain service, including front (C4) and rear differential service. Brakes, steering, suspension and ABS maintenance, troubleshooting and repair for both vacuum boost (C2) and hydraulic-boost (C4) brake systems. Heating and air-conditioning repair, including AIC component replacement.
Body adjustments and repairs, including convertible top, sunroof and targa top service and adjustment.
Electrical system service, with an easy-to-use illustrated component location section. Wiring schematics for selected models, with DME systems, power distribution, grounds, convertible top and other hard-to- find circuits.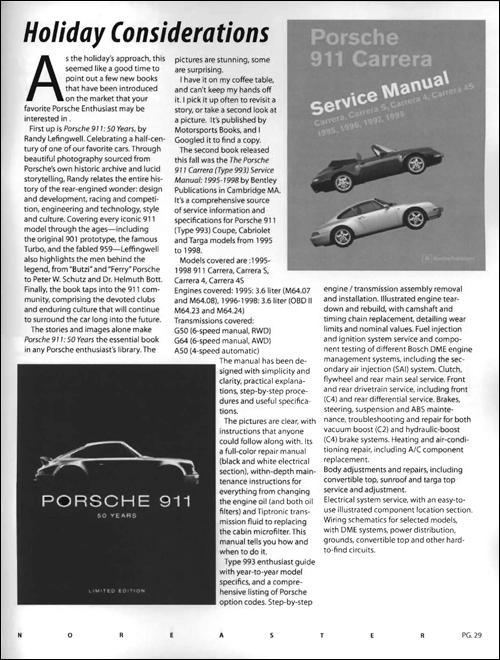 Review from and courtesy of The Nor'Easter, the official magazine of the Porsche Club of America Northeast Region - December 2013