| | |
| --- | --- |
| | Porsche: Excellence Was Expected |
Volume 2
View Table of Contents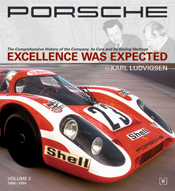 The 1970s and 1980s were years of intense innovation for the Porsche factory. In fact, 1970 was to see the tiny automaker fulfill a major goal: its first overall victory at LeMans. As the decade progressed, the company became a force in every arena of motorsports it entered, including Can Am, where Mark Donohue, George Follmer and the mighty Penske Racing 917s literally decimated the competition. Ludvigsen discusses in depth the development and campaigning of Porsche"s thoroughbred racers from this seminal era.
Models in Volume 2:
Road
911 2.4
914
914\6
356B
912E
924
924 Turbo
928
911SC
Carrera
930 Turbo
944
Competition
917
Carrera RSR
934
935
936
924 Carrera
GTP
TAG/Mclaren
953 - Paris
Dakar
956
962
Porsche had long known the benefits of placing an engine amidships for its racing cars. However, in the late 1960s, Porsche and Volkswagen collaborated on a mid-engined sports car for the road. The author describes the development of this vehicle as well as its fortunes in the market place and its ventures onto racing circuits. He even discusses the sole pair of potent 914-based sportscars powered by the company"s eight-cylinder racing motor.
In the late 1970s, the company adopted front-mounted engines and water-cooling in a move that was expected to spell the end for the venerable 911. The 924 and the impressive V-8 928 were both extremely successful in the American market, their primary target.
Highlights in Volume 2:
· The mid-engined 914
· 917 and the victory at
  LeMans
· Return of the Carrera
· Turbo 911s
· The front-engined Porsches
· Porsche builds a V-8
· Racing in Group C
Just as importantly, the Porsche engineers saw them as cars that could be more easily made to comply with ever-tightening Federal noise and emissions standards than the 911. Yet the evergreen 911 refused to be displaced and continued to be developed and improved along side the newer front-engined cars. While detailing the company"s models and its competition activities, Ludvigsen also explores the company"s maturation process, the challenges facing the small automaker, and how it was to prepare for the future.