MGB Special Tuning Manual: 1962-1974

Softcover, 5 1/2 in. x 8 1/2 in.
50 pages
13 illustrations and diagrams
(AKD4034)
ISBN-13: 978-0-8376-0506-7
Price: $29.95

MGB Special Tuning Manual: 1962-1974
| | |
| --- | --- |
| The MGB as delivered from the Factory in its standard form is tuned to give maximum performance with 100-octane gasoline consistent with complete reliability and reasonable freedom from pinking. There is, however, a more or less continuous demand from enthusiasts all over the world for information on methods of improving the performance for competitive purposes, and it is to meet this demand that this booklet has been prepared. | |
It must be clearly understood, however, that, whereas it is a simple matter to increase the power output of the engine, this increase in power must inevitably carry with it a tendency to reduce reliability. It is for this reason that the terms of the Warranty on a new MG expressly exclude any super-tuning of the kind described in this booklet, but this does not mean that tuning in this way will necessarily make the car hopelessly unreliable. In fact, it may be assumed that it will be at least as reliable as other cars of similar performance.
This booklet is laid out to give details for progressively increasing the power. With the above ideas firmly in mind, the owner should select the simplest tuning method which will give him the performance he requires, remembering all the time that here, as elsewhere, Power Costs Money.
Tuning hints are included for the racing enthusiasts who want to go to the limit and who have facilities to modify or make up special parts for their cars. We hope this section will be of use to them.
Owners are reminded that in certain countries noise restriction regulations are in force. The Company cannot therefore accept responsibility for any increase in the existing noise level of the car which may result after special tuning operations have been carried out.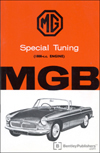 MGB Tuning Handbook (1800cc) 62-74
Wholesale Case Quantity: 1
BSIN
: YMH8
ISBN: 0-8376-0506-7 (ISBN-10)
ISBN: 978-0-8376-0506-7 (ISBN-13)
Permalink
: http://www.bentleypublishers.com/c/YMH8