| | |
| --- | --- |
| | Mercedes-Benz E-Class (W124) Owner's Bible |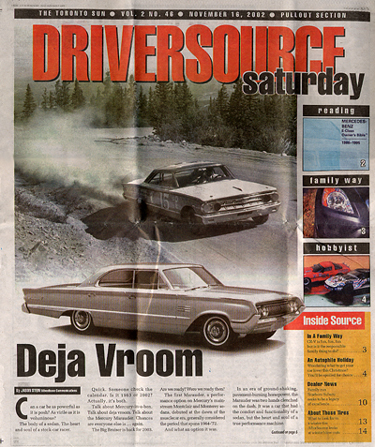 The Toronto Sun - November 16, 2002


Backseat Reading

Bentley is the Only Bible

MercedesBenz E-Class Owner"s Bible 1986-1995
By Bentley Publishing

·Softcover
·81/2 in. by 11 in.
·344 pages ? about 350 b &. w photos and 250 diagrams
·$39.95 US
·Ordering info: ISBN: 0-8376-0230-0

Bentley Publishers
1-800-423-4595 or
www.BentleyPublishers.com

·Rating ***** (out of five)

I was in Autophile—the auto book and model store near Laird and Eglinton—the other day picking up some books on obscure makes such as Iso and Berkeley, when I happened to overhear a gentleman ask for a Bentley manual on Honda Prelude. Employee Tom Gammage quickly grabbed the Bentley catalogue to confirm his feeling that, unfortunately, one wasn't available. There was a manual on the Civic, or he suggested another by a different publisher. The gentleman was quick to point out that only Bentley provided manuals with the kind of detail he required.

This latest "Bible" is one of numerous editions—others include the Jeep Bible, the Harley-Davidson Bible—for a complete listing checkout the website.

Although not a factory workshop manual, this edition will give both the backyard mechanic and the trained technician the information required to fix most of the routine repairs to their Mercedes E-Class. As Bentley put it, their Bible is "an E-Class buyer's guide, maintenance handbook and technical source all wrapped into one." Inside there are tech tips not found in workshop manuals, service hints and system descriptions.

Because this edition is published by Bentley and not Mercedes, you"ll find info on what years and models to avoid as well as those most desirable. This makes the volume worth the price of admission right off the bat.

Those who like to get their hands dirty will be more than satisfied as Bentley has eliminated most of the guess work, while those who would rather pay someone to fix their "E" will at least be able to talk with the mechanic on an almost equal footing. You'll soon be freely discussing the step-by-step procedures involved in brake and rotor replacement or the cure for a hot running V-8 engine by modifying the viscous fan clutch.

Both the M103 and the later M104 engines are included, as well as the diesels.

There is also tuning info to quicken your E-Class's pace and a brief historical review of Mercedes-Benz heritage with particular emphasis on all the E models covered. Owners or potential owners will not be disappointed. And, if they can"t have the car for Christmas, at least they can have the book!