BentleyPublishers.com > FAQ > Bentley Publishers > About Bentley Publishers
Frequently asked questions:
Bentley Publishers - our story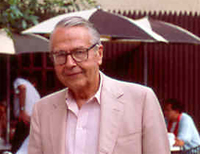 Robert Bentley, company founder, in Harvard Square. Summer, 1985.

Bentley Publishers is a transportation oriented publisher with the goal of producing books with lasting value. We are located on Massachusetts Avenue, in Cambridge, Massachusetts between Porter and Harvard Squares and we invite you to visit our bookstore located on the first floor of our offices.

Founded in 1950 by Robert Bentley as an importer of fiction and philosophy books, (now Linnaean Press™) Bentley Publishers became increasingly involved with automotive publishing over the 1960's and now we focus our energy here.

Recognized by readers of Car and Driver, Popular Mechanics, and Motor Trend magazines, we take pride in producing books that enhance your technical and historical understanding of the car you drive.
Bentley in the Press
"Call it a chop shop with portfolio...
- The Boston Globe, May 20, 2000
Read entire review

Bentley Publishers featured in October 2001 issue of Total BMW!
Read entire review

"Sports car and Euro-car lovers are in luck...
- Arrive, January/Febraury 2001 (Amtrak magazine)
Read entire review
That is me on the left with long time colleagues Janet Barnes, Director of Publishing, and Charlie Burke, Senior Editor.

Thank you,
Michael Bentley