What is an eBahnŽ Web Subscription?
The eBahn® Web Subscriptions at eBahn.com have been designated by Volkswagen of America as the new and improved official site for aftermarket Service Information for Volkswagen and Audi. From any computer with an internet connection that meets the system requirements eBahn® Web Subscriptions provide immediate access to detailed repair information for your Volkswagen or Audi.
Users of eBahn Web can access: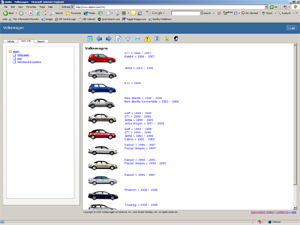 Take a tour of eBahn® Web Subscriptions, complete with animated demo movies, by clicking here
eBahn® Web Subscriptions are available in 3 day, 30 day and 365 day increments. To access your subscription at any time, go directly to www.eBahn.com or click the eBahn® Subscriptions link in the top of any www.BentleyPublishers.com page.
Want to purchase a subscription now?
Look through the list of vehicles covered to see what subscriptions are available today:
Volkswagen Audi
Want to browse through eBahn® Web now?
Feel free also to browse eBahn.com before you buy a subscription. Although you won't be able to see the actual repair manual pages, you will see the titles and listings for all the information that is currently available on eBahn.com for each vehicle.
Volkswagen Audi
Security / Licensing Model:
Compatibility/System Requirements
eBahn® Web is usable on a PC and requires Internet Explorer 6.0 (with Javascript and Cookies enabled), Adobe Reader 7.0, Windows Media Player 10 and Macromedia Flash Player 8.0. Because eBahn® Web is an entirely online product our compatibility support will cover browser issues, but will not cover any problems between your operating system and the browser that you are using.
Frequently Asked Questions about eBahn® Web
For more information on eBahn® Web covering a wide variety of topics, visit our eBahn® Web Frequently Asked Questions page here.