| | |
| --- | --- |
| | Corvette Illustrated Encyclopedia |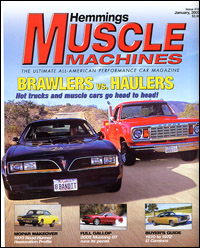 Hemmings Muscle Machines - January 2005
Review of Corvette Illustrated Encyclopedia from Hemmings Muscle Machines - January 2005
"After all the Corvette books that have been published throughout the last 30 years. it's surprising this one didn't surface earlier. Corvette enthusiast Tom Benford came out with the aptly titled Corvette Illustrated Encyclopedia.
No, it's not the World Book the pushy salesman had when he came knocking on your door years ago. Rather, the 315-page book, with more than 190 black and white photos, is exactly what it says-an encyclopedia about Corvettes, past and present. Set up in much the same format as an ordinary encyclopedia, the book, appropriately, begins with Arkus-Duntov, as in, Zora, who is credited with transforming the Corvette from a cute car into one of the most feared sports cars in the world.
Throughout the book, Benford chronicles everything and anything Corvette related, from personalities to parts, option codes, even famous racing Corvettes. The book shows a great deal of research and appears accurate by all accounts. The publisher claims the book will be updated to keep it current with new model information and additional entries as the Corvette's evolution continues. There are more than 700 entries, including little-known facts (like all mid year year cars with factory air conditioning had the battery mounted on the driver's side, instead of the passenger side, due to the extra a/c plumbing) and year-by-year Corvette specifications.
We have two comments-it's a must for the Corvette aficionado, and the price isn't Corvette-related."
-George Mattar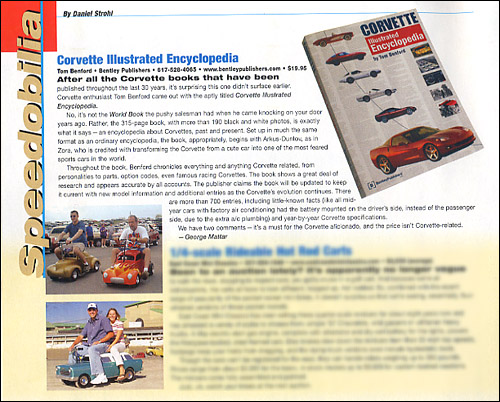 Review of Corvette Illustrated Encyclopedia from Hemmings Muscle Machines - January 2005