Printed in the
United States of America

Corvette -
America's Star-Spangled
Sports Car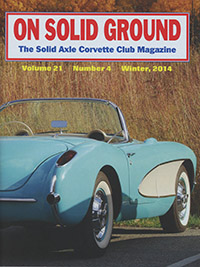 On Solid Ground - Volume 21, Number 4, Winter 2014
New Book on Corvette History
A review by Ken Amrick
Do you remember a popular Corvette book published in the early '70s entitled CORVETTE: AMERICA'S STAR-SPANGLED SPORTS CAR? Karl Ludvigsen, the author of that book has recently completed an updated version of it. I spoke with Mr. Ludvigsen briefly at the Bloomington Gold show last June when he was inducted into the Bloomington Gold Great Hall. I learned that he was closely involved with GM for many years where he worked in Styling mostly and had a close association with Bill Mitchell and Zora Arkus-Duntov. That association and his work as an automotive journalist and editor of Car And Driver magazine was the foundation he built upon to create this fine book.
The new book is much larger in size and content than the 1973 version. The 2014 edition has 784 pages in full color throughout. Almost 1,000 photographs, many have never been published previously. The new version has 52 chapters. Almost half of them, 24 chapters, are filled with 1953 to 1962 model year facts, stories, racing victories and other interesting information. I was also impressed with the 15 pages of the appendices. As examples; Appendix IV lists the colors available by model year including the formula numbers from 3 paint manufacturers. Appendix VII has the Corvette racing victories of major races from 1955. It lists the race, driver(s), result, and the class or division. It was a Herculean task to organize and assemble all this information into one book.
This book should be on the list of "must haves" for every SACC member:
Corvette Restoration & Technical Guide -Volume 1 by Noland Adams
Corvette: American Legend - Volumes 1, 2, 3, 4, 5 by Noland Adams
The History of GM's Ramjet Fuel Injection on the Chevrolet V-8 by Kenneth Kayser.
CORVETTE: AMERICA'S STAR-SPANGLED SPORTS CAR by Karl Ludvigsen
This is Corvette history from the original concept through the 1982 model year. It's a large book with 52 chapters. If you leisurely read one chapter each week, it will take you an entire year to read this book. That won't happen. It's more likely you'll read it much faster because the material is about your favorite car with lots of great photos.
Christmas is coming. Maybe your spouse will get it for you. Or, you can get yourself a Christmas present.
You can buy this book without leaving your house. Just turn on your computer and "google" Bentley Publishers Corvette. Then click the "add to cart", pay for it, and like magic it will be on the doorstep in a few days. Too easy. The hard part will be not opening it until Christmas.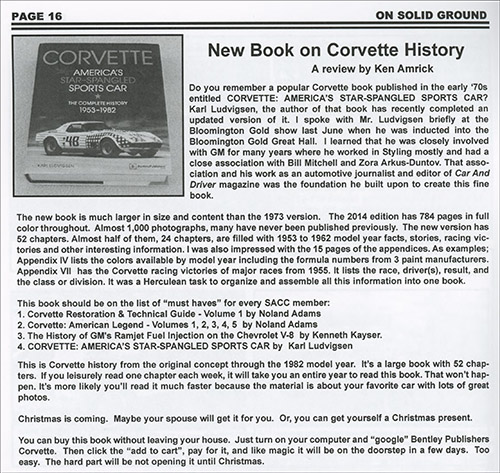 Review from and courtesy of On Solid Ground, The Solid Axle Corvette Club Magazine - January 2015