Printed in the
United States of America

Corvette -
America's Star-Spangled
Sports Car
"My early education and inspiration related to Corvette history came from my original 1973 copy of "Star Spangled Sports Car".
After 40 years of use, wrinkles, torn dust cover, and dirt stained pages, it has served as the number one source to help tell the stories of the cars and people inducted into the Great Hall®.
It's rewarding to see Karl Ludvigsen, himself, now recognized as an important contributor to the Corvette Phenomenon."
- David Burroughs
Founder, Bloomington Gold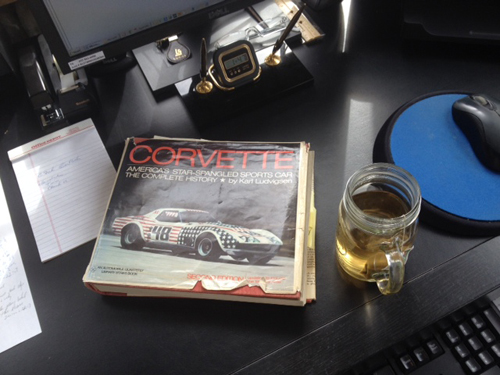 Well-loved original edition of Corvette-America's Star Spangled Sports Car owned by David Burroughs. Yellow Post-it notes on the side denote passages that David has marked for ongoing restoration and preservation research.