Gasoline Direct Injection (GDI)

CD-ROM, Windows 95/98/NT4.0SP5/2000
Language: English , Deutsch
ISBN-13: 978-0-8376-0616-3
Price: $29.95

This bilingual (German/English) CD offers an in-depth description of gasoline direct injection, and is suitable for students, trainers as well as certified technicians who want to further their understanding of this new system. It is fully narrated and offers numerous animated illustrations, as well as videos, print and search functions and a glossary. You will recognize the same quality and attention to detail you have become accustomed to from the Bosch Handbook and Instructional Booklets.
Minimum System Requirements:
Intel Pentium II 200 MHz or higher
64 MB RAM
100 MB available hard drive memory
16 bit sound card
16-speed CD-ROM drive
SVGA (800x600 pixels; 16 bit color depth)
Microsoft Windows 95/98 or NT 4.0 SP5/Windows 2000
Windows Media Player 6.4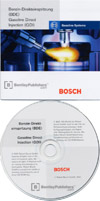 Bosch Gasoline Direct Injection CD
Wholesale Case Quantity: 1
BSIN
: H900
ISBN: 0-8376-0616-0 (ISBN-10)
ISBN: 978-0-8376-0616-3 (ISBN-13)