| | |
| --- | --- |
| | BMW 3 Series Enthusiast's Companion |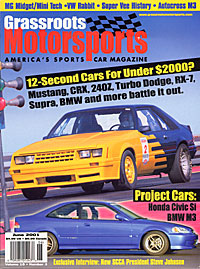 Grassroots Motorsports - June 2001
The BMW 3 Series

Jeremy Walton and Robert Bentley Publishers have done it again. Following in the tradition of the excellent "Unbeatable BMW," Walton has now authored the "BMW 3 Series Enthusiast Companion." This new 300-plus page book outlines in exhaustive detail almost every single aspect of the history of BMW's 3 Series automobiles.
From the humble beginnings of the first 320i to the sensational styling of the newest E46-chassis cars, this book covers the story extremely well. As an example of this thoroughness, this book gives the unique E30 M3 six chapters, unlike most BMW books that give it a few paragraphs. Chapters include "M3 in the USA," "The EVO years" and, of course, a lot of text on the M3's racing successes. The E36 cars are treated with comparable thoroughness. Unlike many books on the marque that cover either the U.S. or European versions of these cars, Walton discusses both types in great detail.
We assumed this book would be as expensive as Walton's hardcover "Unbeatable BMW," which sells for $85. The pre-production review copy has the same high-quality look and feel, but we are pleased to announce that "BMW 3 Series Enthusiast"s Companion"-- like the car that it covers-- will be aimed at the masses with a soft cover and a very bargain price of $29.95.
If you are a BMW 3 series aficionado, or a racer trying to determine which years of these cars had the most power or least weight, this is a must read. Casual enthusiasts might do better with a broader book on the marque. As for us, as certifiable 3 Series freaks, we have already ordered our own copy. Bentley Publishers can be reached at (800) 423-4595, and their online catatlog is found at www.rb.com