| | |
| --- | --- |
| | Memoirs of a Hack Mechanic |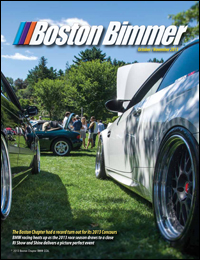 Third Quarter General Meeting At BMW Gallery Norwell featuring Hack Mechanic Rob Siegel
Boston Bimmer - October / November 2013
The third quarter general meeting on September 11th kicked off with Avery Trumbo general manager welcoming us with some interesting news about a new & larger BMW Dealership and a MINI Dealership in the area owned by the Gallery Group.
During the meeting, Steve Powers the BMW parts manager generously offered a 20% discount for that day only on BMW Parts which kept the parts department busy with purchasers lined up at the parts counter all evening. The dealership also raffled off two $50 valued gift certificates, and the lucky winners were Colin Davis and John Sullivan. The Dealership's Manager of Pre-Owned (CPO) Alan Zaidan also made copies of the current inventory of CPO cars available at BMW Gallery-Norwell.
The Speaker for the evening was Rob Siegel a columnist for the BMW CCA's monthly magazine the Roundel. Rob uses the pseudonym "Hack Mechanic" in his column, and he spoke to us about his new book Memoirs of a Hack Mechanic, in which he relates the trials & tribulations involved in working on his stable of cars. He shared some very scientific and not so scientific means he used to get his "collection" of cars repaired. His book will have you nodding in agreement at some of his methods. The book is a great compilation of insight into the mysterious ways to address different repairs. There are some fine tutorials throughout the book on the proper tools to obtain for certain repair jobs. Rob is an engineer by trade and has a great feel for mechanical work!
Rob's book was published by Bentley Publishers which offers many repair mauals for BMWs and other automotive brands. The Bentley team was well represented at the meeting to help with the book signing after the presentation. Team members in attendance, included: Michael Bentley, president, Maurice Iglesias, director of marketing, and senior editors Charlie Burke and Janet Barnes.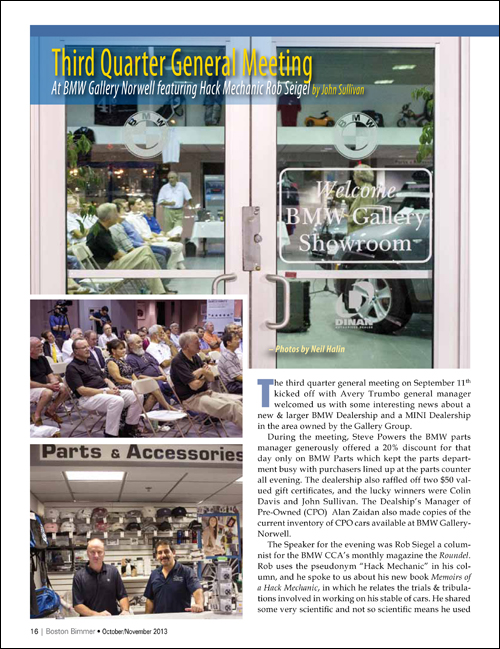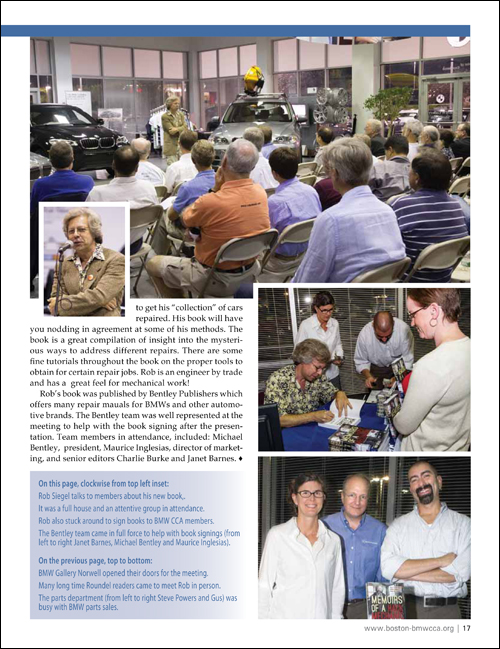 Article from and courtesy of Boston Bimmer - http://www.boston-bmwcca.org/Bimmer/default.aspx