| | |
| --- | --- |
| | Memoirs of a Hack Mechanic |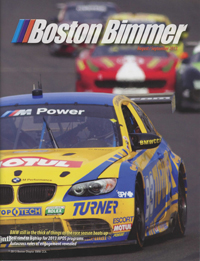 Scenes from a "car guy" marriage
...or "I went to Rob Siegel's book reading and why I actually enjoyed it."
Boston Bimmer - August/September 2013
Last weekend, I let my car-crazy husband drag me with him to our local bookstore to attend a reading and book signing featuring Rob Siegel and his new book, "Memoirs of a Hack Mechanic." Well, when I say "dragged" me, I exaggerate. I may mock Neil, but in reality, I think his love of cars and driving is pretty cool. Part of what I marvel about is the sheer competence it takes to muck about with cars. And while I may feign complete disinterest, I have absorbed quite a lot of random and useful information (and attended a safety school) along the way.
It's always a good thing to be curious about your partner's passions--at least enough to encourage and talk about them. And that curiosity pushed me to pick up Rob' s book and read the first few chapters. What I read made me eager to hear him talk about his life's hobby playing under the hood.
When Rob talks about his cars, I hear the same enthusiasm (and sometimes exasperation) I hear in Neil's voice when he talks about a driving event or a Lemon's race. Like Rob's wife, Maire Anne, I'm not what you'd call a car geek, but also similar to her, I've learned that the way to make relationships work is to support what your partner loves, even if you don't understand its particular magic. It was amusing looking around the bookstore at the (mostly) men, hanging on every word - especially the technical bits - and the (mostly) women chuckling or shaking their heads in the universal solidarity of the car / track / golf / etc. spouse.
Based on Rob's remarks and the few chapters I have read, this memoir is as much a how-to manual on respecting the obsessions of the people in your life as it is on actual car repairs. And perhaps that is as it should be: we are the sum of our relationships, our work, and our passions. I think Rob weIl understands the delicate balance that exists between them.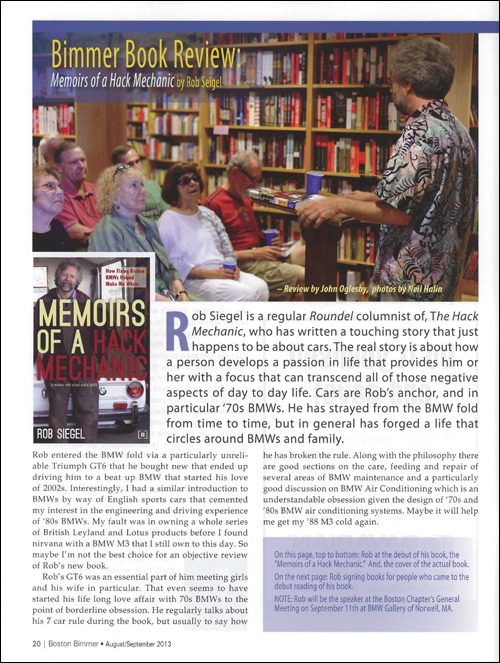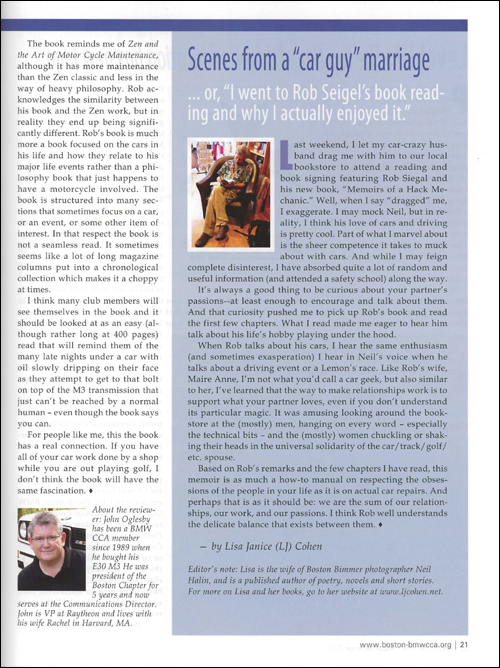 Article from and courtesy of Boston Bimmer - http://www.boston-bmwcca.org/Bimmer/default.aspx