| | |
| --- | --- |
| | Memoirs of a Hack Mechanic |
The Hack Mechanic Fine Tunes 25 Years of Wrenching Tales
The Boston Globe- June 2, 2013
Rob Siegel, a Newton resident, has produced one of the best auto memoirs I've read in a long time. It's called "Memoirs of a Hack Mechanic," or "How Fixing Broken BMWs Helped Make Me Whole."
Siegel is well known in BMW circles. For more than 25 years, he's written "The Hack Mechanic" column in Roundel, the BMW Car Club of America's monthly publication. Last weekend, he was touting his book at the Vintage at the Vineyards gathering in Winston-Salem, NC, an annual Memorial Day Weekend meet-up of classic BMW enthusiasts.
He describes it as an instant reunion with like-minded obsessives, although he's the only one who pounds out "1,100 words a month about it."
Though the cars in his driveway and garage are subject to change on short notice, Siegel started 2013 with five BMWs - his classic 1972 2002tii, a 1973 2002, a 1973 3.0CSi, a 1999 Z3 M coupe, and a 2001 325XiT (his daily driver) plus a 2008 Honda Fit (his wife's daily drive), and a "very high mileage 2000 Chevrolet Suburban."
If your dad happens to be a car guy, Siegel's memoir would be a great Father's Day present. The book is an autobiography, starting when Siegel's mom bribed him with a car so he would cancel plans to bicycle across the country before starting college.
That car, a classic-but-unreliable Triumph GT6+, took him off to college and in many ways charted his life's course.
"Since its last act was taking me on my first date with she who would become my wife, I owe the car a big debt of gratitude," writes Siegel. "Maire Anne and the GT6+ are wistfully intertwined in my mind by this single encounter. The car that went, the girl who stayed."
Their marriage, and a string of vintage BMWs, are two of the many threads that tie 60-plus chapters together. However, this is a book that you can open to any chapter and read as a complete experience, much like viewing an episode of a beloved TV series.
Siegel writes that his life has revolved around computers, guitars, and cars. "It is said you're not a real musician until you've had an instrument stolen, a real software engineer until you've lost three days of code, or a real mechanic until you've drawn blood."
He's all three, plus a writer, combining humor, do-it-yourself advice, a touch of philosophy, and guidelines for buying and maintaining classic and contemporary vehicles.
Among the many other threads in his writing:
1. Why I don't repair cars for other people (five chapters of different stories). He finds that whenever he fixes someone else's car, even for free, he always feels the job wasn't complete. "Once again, the outcome of doing a favor was this feeling in my gut that I had done something wrong ... "
2. Actual useful stuff: "Besides a flat, the things that are most likely to cause a car to die and leave you stranded on the side of the road are pretty mundane and fairly predictable: battery and alternator, cooling system, beIts, fuel supply, ignition-related issues, and ball joints. "He then segues into a primer on how to deal with them prophylactically.
3. His view on classic cars. "I don't restore cars, I prefer rolling rejuvenations, meaning that the car is still drivable as much of the time as possible (this is the equivalent of living in your house while you're renovating it.)"
4. Siegel's answer to the oft-asked, why do men love cars? "For the love of God, beg, borrow, or steal something Italian and drive it. Hard. Maybe you'll hear the aria."
5. Why does he do the messy job of changing his own oil? "I'm greasy ... might as well crawl all the way under and have a good look. It allows me to see other problems before they become more serious. It's like the car's well-visit to the doctor."
6. Siegel's seven car rule: "There's Mom's family hauler, Dad's daily driver, the convertible, the oversized four-wheel-drive, beach-snow attack vehicle, the track car with the stiff suspension, the pampered classic, and the current project car." Of course, then there's the chapter entitled, "The Car Count Hits Double Digits."
7. On safety: "When I'm tempted to do something questionable, I try to remember what I've said for years as a joke, but it's really not all that funny. If I died in the garage, Maire Anne would kill me."
Instead of a farewell, there's a sense of "To be Continued" in this work.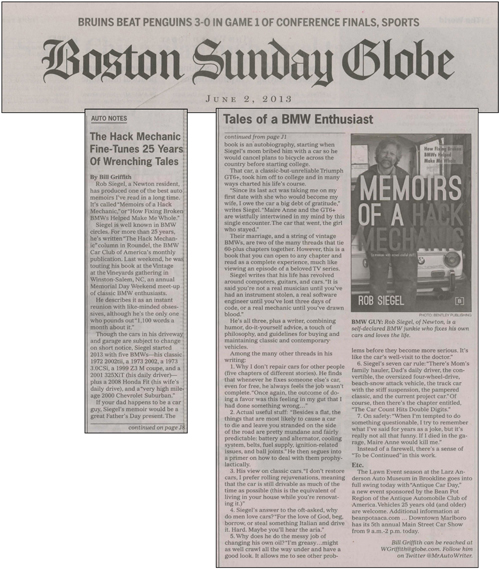 Article from and courtesy of The Boston Globe