| | |
| --- | --- |
| Paperback, Black and White edition | |
Road & Track - February 1999
Winning Ways
Jeremy Walton is a well known English author who has specialized in motorsports, and Robert Bentley is an established publisher of automotive titles; together they have produced the definitive story of BMW's racing campaigns. Physically it is a thick and weighty volume, appropriate to its substantial price. That shouldn't bother the German company's many serious fans, most of whom must be familiar with the publisher's earlier title, BMW Enthusiast's Companion, a smaller but thorough owner's driving, performance and service guide, as well as 3-Series and 5-Series service manuals.
Unbeatable BMW is actually the second edition of the title, a smaller book limited to the years 1959-1979 having appeared 20 years ago. There is hardly any comparison. While the first two chapters cover the company's early aero engine and motorcycle exploits, the motorsports story begins with BMW's first victory by a modified Dixi in 1929. Real BMWs began in the mid Thirties with the 300 series, especially the 315 and 319 sedans and 2-seaters, but it was the 328, with the 80-90-bhp 1971-cc 6-cylinder engine, that made the company famous (and also contributed power to the English Frazer Nash and Bristol cars, and several post-World War II German racing specials such as the 150-bhp Veritas).
The company struggled after the was but the 4-cylinder 1500 and 1800 sedans reestablished its image, Racing versions were of course instrumental. In the mid Sixties BMW began to develop pure racing engines, initially for Formula 2 and sports cars, while competition 2002s performed superbly in races and rallies well into the Seventies.
In 1972, Motorsport GmbH was created to market BMW's racing technology, effective to the extent that the letter M, which might well stand for magic, has come to mean high performance.
In particular, BMW developed turbocharging to a very high degree. From 1978-1988, BMW engines were a force in Formula 1, the Brabham and Benetton teams using 1.5-liter 4-cylinder units that ultimately produced 1200 bhp, and Nelson Piquet won the 1983 World Championship in a Brabham-BMW.
The company continued to campaign M3 versions of its road cars in Europe and the United States, reinforcing its image as a "driver's" car.
Walton covers all aspects of these and other programs, a very difficult task because of the complex interaction of the various departments and projects, both for production, factory racing and cooperation with other chassis makers and teams, as well as the many prominent drivers. There are specification charts for the major models from 1980 through 1997, and a listing of the most significant racing performances. Add 503 photographs (of which 155 are in color) and it's obvious why the book is so hefty. I never thought I'd say this about an $84.95 book, but it's worth that to anyone fascinated by the letter M.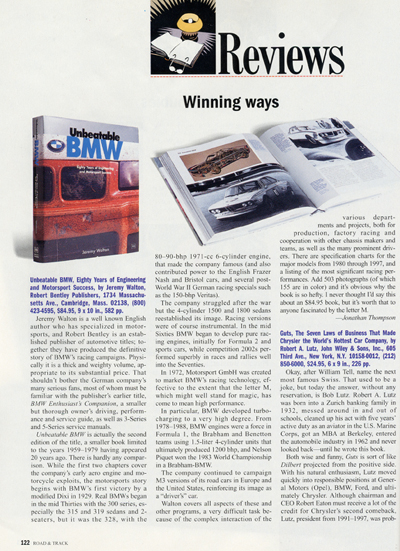 Article from and courtesy of Road & Track - February 1999