| | |
| --- | --- |
| Paperback, Black and White edition | |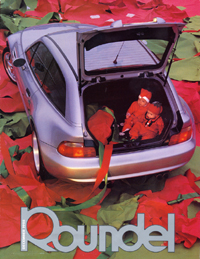 Roundel - the magazine of the BMW Car Club of America - December 1998
Unbeatable BMW: A Complete?and Heavy?Racing History
If you can't judge a book by its cover, perhaps heft can lend some insight into its nature. In the case of Jeremy Walton's new edition of Unbeatable BMW: Eighty Years of Engineering and Motorsport Success, we tested this hypothesis in a proper racing manner: We plopped the book onto a digital corner weight checker.
With a resounding thud, it registered 4.6 pounds of BMW racing history, stories, trivia, records, and photographs. If that sounds fairly complete?not to mention heavy?the new Unbeatable may just be the most comprehensive history of BMW racing ever written.
Walton's first, comparatively thin, edition, released in 1979, started more or less in the middle of things with the tiny 700 coupes of the 1960s and ended with the mid-engined M1. The latest work goes all the way back to the beginnings of BMW, with the exploits of Red Baron Manfred von Richthofen's World War I Fokker Triplane squadron, and ends with the championship-winning PTG M3 program in North America; in a monumental effort which took more than two and a half years to assemble, Walton, a former racer with plenty of BMW experience, chronicled everything in between.
The book is organized so that you can go right to the chapters covering your favorite era or cars. Of special interest to us was the in-depth history of the pre-war 328s, the adventures with the Junior Team, Formula2 dominance, and the E30 M3 racers and road cars. Munich's first steps into competition in rallies and hillclimbs with the Dixi and 315 are detailed with rare photos. There's also plenty here for 2002 enthusiast, with coverage of european and US race teams.
BMW's leadership in turbocharging, in both production-based racing and Formula 1, is well-documented. The sometimes overlooked North American racing programs, including the CSLs, the Trans-Am and IMSA March-based GTP cars, and the all-conquering E36 M3s are lavishly documented and given proper credit for their significant roles in enhancing BMW's image. Even the wacky, mid-engined Z3 roadster, prepared by Team ORECA in the French ice racing series, gets a mention and some revealing photos. And, of course, the heart and soul of BMW motorsports, touring car racing, is a major part of Unbeatable.
"Some of the most fun I had writing the book was working with and talking to the enthusiastic owners in the States?BMW CCA members," Walton says. To prove his point, the magical 1996 Monterey Historic Races weekend, where BMW was the featured marque, is highlighted in several sections. Many of the photos of members' cars at that event, were taken by Roundel's Klaus Schnitzer; it's as if Unbeatable was written with BMW CCA members specifically in mind. Judging by the brisk sales at this year's Oktoberfest in Orlando, where the author was present, that was probably a good idea.
Walton's favorite period of BMW competition history is the era of the CS coupes: the famous "Batmobiles" of the early-to-mid-1970s. "I admired their performance as race cars," he says. "In that respect, they are true BMWs." He speaks from experience: His personal racing career hit a high note when he drove a CS coupe in the 1972 24-hour race at Spa Francorchamps, finishing seventh overall and scoring a class win. Three chapters are devoted to those magnificent automobiles.
Looking forward, Walton sees a very demanding?and vastly expensive?Formula 1 effort with the Williams team that will not be immediately successful for BMW. "The stakes are much higher today than they were the last time BMW participated in F1," he observes. He also predicts a major competition role for the Z3. He bases that on an interesting full-race Z3 roadster with a swept-back hardtop he spotted on the third floor of Mobile Tradition's shop in Munich. "It was a roadster. I was asked not to take photographs. This was obviously a race car project."
According to Walton, LeMans will continue to figure significantly in BMW's future. "The Williams [the open-top sports prototype racer built for BMW by Williams which made a dismal showing in 1998] will be a top-three car next year and will win in 2000," he reckons. Walton says racing is as central to BMW's image as it is to Porsche's persona. "BMW needs to compete," he said, "and a little measure of that sparkle must get to the customer in every car they build."
Eagle-eyed readers will find one photo caption mistake. We're not going to tell you where it is?but if you know in which series the car competed and who is actually driving the car, despite what the caption says, you're an astute BMW Motorsport historian. A hint: the photographer was Klaus Schnitzer.
If you find a Formula 2 BMW's high-pitched whine cresting the Nürburgring's Quidelbacher Höhe in an Eifel mist, the moanful wail of a McLaren F1 GTR down a midnight-blackended Mulsanne Straight, or the staccato yelp of an M3 glued to Daytona's banking at sunrise irresistible music to your ears, you need to put Unbeatable BMW in the "must have" column of your holiday wish list. It sets a lap record for racing history books, worth every cent.
Ask Jeremy Walton if he'll update this edition and there is a long, loud laugh. "I have to recover first," he pleads. Then he quickly adds, "I suppose about five years into the Formula 1 project there will need to be something else written." Like a successful race car designer, Walton has some ideas for improvements in his next iteration: weight-saving carbon fiber covers.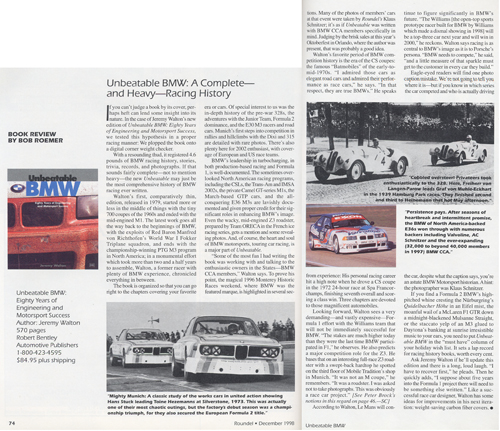 Article from and courtesy of The Roundel - December 1998