| | |
| --- | --- |
| Paperback, Black and White edition | |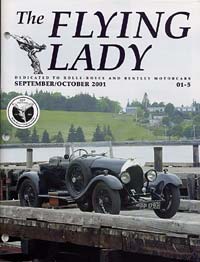 The Flying Lady - the flagship publication of the Rolls-Royce Owners' Club - September/October 2001
There is an important link between BMW Motorsport and Project Rolls-Royce: one of its key decision makers is the same. Karl-Heinz Kalbfel, who is now the Director of Rolls-Royce, was formerly Managing Director of Motorsport, a company within the company that handles all M-branded activity.
His vision and tenacity made both the M1 and the first M5 cars happen commercially. Vision and tenacity, as well as intellectual pragmatic integrity, are what will make or break Project Rolls-Royce. No one doubts that BMW will bring undeniable and much needed engineering excellence to the table. But much is made of the proverbial teutonic heavy-handedness that may be insensitive to the intangible British-ness of the Rolls-Royce. Those who cast a suspicious eye on the future parent of the marque may find in this book examples of a corporation unafraid of committing itself to the new and untried. Individuals like Kalbfell made a difference before, why would they not now?
Being more thorough than most, Walton's first edition some 20 years ago established itself as the benchmark reference book. But it covered only the years 1959-79. This new version extends the scope from 1917 through 1998 and its writing and design garnered four awards at the 1998 International Automotive Media Conference (IAMC).
Walton covers in great and thorough detail all the obvious topics, from engineering aspects to driver profiles, as well as BMW's accomplishments in aviation and motorcycling. The text, in witty, conversational style, is accompanied by hundreds of well-captioned new and period photos. Six appendices cover competition cars since 1960, drivers' accomplishments, and powerplant specifications.
The common denominator in this long and varied history are the people who made it happen, who saw through - and who were not thwarted by Big Brother corporate bean counters. So, relax, Rolls-Royce will be fine...


Article from and courtesy of The Flying Lady - September/October 2001