| | |
| --- | --- |
| | Road & Track Illustrated Automotive Dictionary |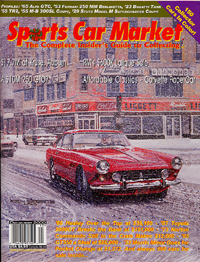 Sports Car Market - December 2000
Back in the '70s,
Road & Track
magazine carried a monthly feature that was an installment version of this book.
Road & Track Illustrated Automotive Dictionary
. That effort was much smaller in scale and scope, and many things have changed in the world of automobile technology in those intervening years. Even if you're well versed in the black magic of magnetos and kingpin inclination, the rest of the automobile hasn"t retained much of the technology of the '60s.
Illustrated with a mix of photos and line drawings, this book can bring even the well-seasoned enthusiast up to speed on things like viscous drive differentials and stratified charge while still giving updraft carburetors and drophead coupes their due. This old and new information can make this book a good glossary for the not-so-seasoned enthusiast. Gen-Xers confused by archaic terms like "shooting brake" and "dumb irons" will find these old tech phrases right alongside more familiar new tech terms like "ground effect" and "throttle body." Overall, this is a very inexpensive book that can answer more than a few questions about old and new cars.