| | |
| --- | --- |
| | Road & Track Illustrated Automotive Dictionary |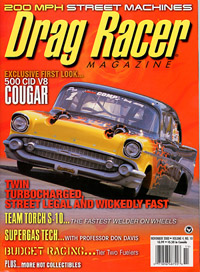 Drag Racer - November 2000
It isn't often that we review anything around here that might prove to be extraordinarily useful. Fun, interesting, quirky, or something to suit the historically minded - yes, we've got that; but as far as manuals and techy books, well, we try to leave that stuff to the publications with illusions of intellectual grandeur. That is until we received a book that's proven itself so useful, and at the same time so interesting, that we just had to share it with you. And, this will probably shock you right out of your easy chair but it's a DICTIONARY, no less!
Rest assured this isn't the old Webster's Unabridged you've been using to prop your bedroom door open with, this is the Road & Track Illustrated Automotive Dictionary by John Dinkel, and it packs a veritable truckload of definitions, explanations, tech terms, slang terms, charts, graphs, photos, and diagrams between its covers. The dictionary is newly revised and contains over 1,300 detailed definitions and 425 illustrations to assist when words simply are not enough.
The Automotive Dictionary is structured alphabetically just as a typical dictionary is, but its detailed definitions are strictly geared toward the automotive realm. Everything from engine pars, aesthetic terms, types of vehicles, and automotive associations are covered in the Automotive Dictionary's pages. Entries are cross-referenced to clarify difficult or multifaceted concepts, and complex automotive systems are clearly diagrammed or rendered with explanatory notes to ease understanding of difficult systems.
Technical terms such as "popper valve" ("A mushroom-shaped valve found in the cylinder heads of virtually all modern car engines...") and "friction shock absorber" ("A mechanical, as opposed to hydraulic, device designed to dampen spring oscillations...") are addressed, as one would expect. But, other terms such as driving techniques and even slang and foreign terms get their due. You probably thought a "saloon" was an old west alcoholic beverage dispensary, but not if you're in Great Britain, where it is simply another term for "sedan." And you probably already know the "de Ville" is French for "town," but what does it mean when applied to a car, like Cadillac Sedan de Ville? The Road & Track Dictionary can give you the full low-down.
This reference book is perfect for anyone who is enrolled in an automotive mechanic training or related program. It's also a useful tool for the seasoned mechanic or engineer, who just needs a bit of a brain jolt every now and then, but even the automotive know-nothing will find it a useful starting point for understanding how an engine works and what everyday automotive terms like "ball joint" and "differential" mean. It can be an expecially useful tool for anyone purchasing a new vehicle. If you know what an "ABS" unit is, you'll know whether you want to shell out the extra cash to get it or not.
-Michelle Brant