Race Car Vehicle Dynamics: Problems, Answers and Experiments

Spiral Bound, 7 1/4 in. x 10 1/8 in.
280 pages
Price: 69.95

Race Car Vehicle Dynamics: Problems, Answers and Experiments
Race Car Vehicle Dynamics: Problems, Answers and Experiments is a supplement to Race Car Vehicle Dynamics. It expands on the former Race Car Vehicle Dynamics Workbook in a number of ways:
Detailed worked solutions to all of the problems
Problems for every chapter in RCVD, including many new problems
The RCVD Program Suite (for Windows) with accompanying exercises
Experiments to try with your own vehicle
Educational appendix with additional references and course outlines
Well illustrated with over 90 figures and graphs
In addition to students, these worked solutions should be of interest to a wide audience, greatly expanding the examples presented in the original RCVD. The Program Suite was originally used in conjunction with a university course and has been specially developed for inclusion in this book. The educational supplement will be of interest to users who are unable to attend formal classes and wish to continue their education.
Engineers and designers of passenger cars, as well as race cars, will find worked solutions to many common problems.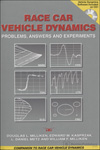 Race Car Vehicle Dynamcics Workbk
BSIN
: H690
ISBN: 0-7680-1127-2 (ISBN-10)
Permalink
: http://www.bentleypublishers.com/c/H690